O'Shea
O'SHEA 13' GTE HPx INFLATABLE SUP PACKAGE 2023
Sale
Enquire Now
Regular price
£929.95 GBP
Regular price
Sale price
£929.95 GBP
Unit price
per
Free Delivery — on orders over £60
THE O'SHEA GTE HPx INFLATABLE SUP
Reviewed by SUP International magazine as "...A TOURING CHAMPION... A TRUE ADVENTURER'S BOARD. ENGINEERED FOR COMFORT & SPEED."
Introducing the ultimate exploration SUP-ing board that will bring out the hidden explorer in you. Now featuring state-of-the-art, high temperature heat welded seams for a stronger seam and enhanced cosmetic finish. Plus, a 5-year warranty (see details below).
The unique Ultra Light HPx construction, which is the most advanced iSUP technology in the world today, enhances both glide characteristics on the water and transportability over land due to increased board stiffness and ultra-lightweight. HPx is a game changer in the world of iSUPs, yet, there is no compromise on board durability. The yellow top and bottom ensure both colour integrity and high visibility – be seen, be safe on pond, lake or ocean.
Features:
Warranty Extendable to 5 years
Ultra Lightweight & Super Stiff / Board weight 9.5kg

State-of-the-art, high temperature heat welded seams

Ultra compact / easily foldable / easily transportable
Package weight including Carbon Hybrid paddle and pump / 12.6Kg
Improved glide on glassy water
Reinforced tow and leash eye
O'Shea HP6 Triple Action Power Pump
RMS-Removable Fin System
Diamond die-cut EVA deck grip for the ultimate in non-slip
Original H3 Valve
Spacious O'Shea Pro Backpack to allow easy packing

O'Shea Coil Leash
CAD Design and Tested by Farrel O'Shea
Board Spec:
13' x 31"' x 6' Vol – 340ltr Weight – Board Only 9.5kg / Package Weight 12.6Kg
Warranty:
2023 models are supplied with 1 years manufacturers warranty extending to 5 years by contacting O'Shea
The O'SHEA 13' GTE HPx...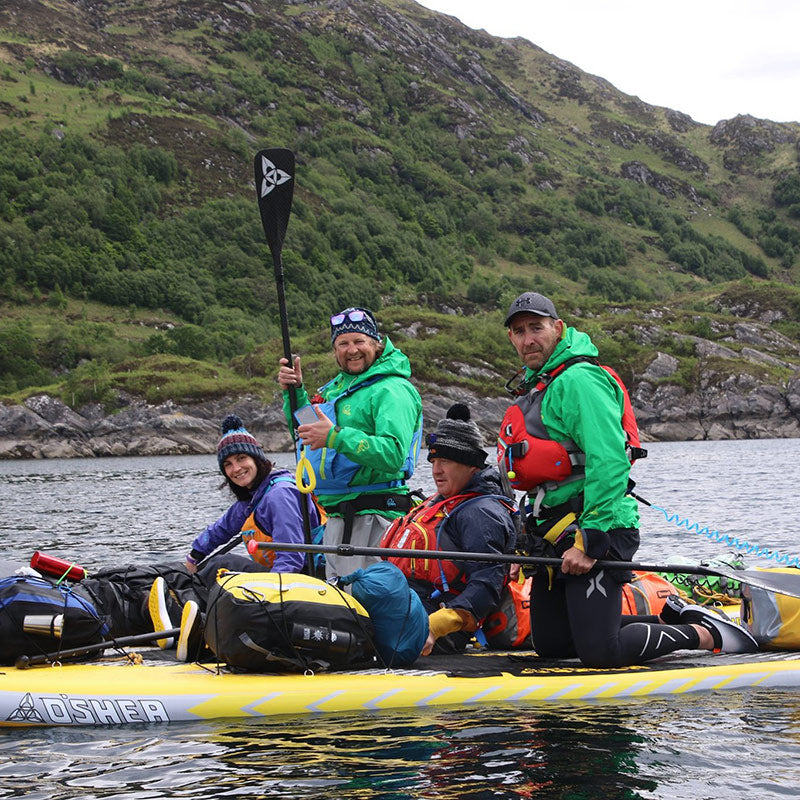 ULTIMATE EXPLORER
THE GTE is the ultimate in SUP exploration and will suit all budding adventurers who want an effortless glide and the size and stability to carry all your touring kit, whether that is on a day trip or on an epic voyage.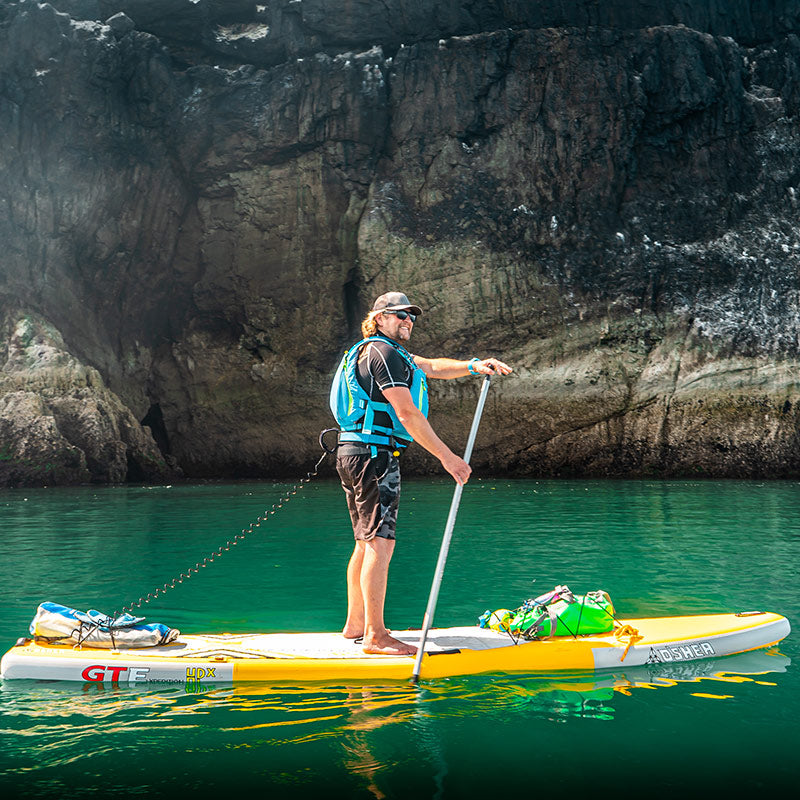 HPx BENEFITS
Our advanced HPx construction is a market leader in iSUP construction. HPx boards are 20% lighter than any FUSION or MSL constructions, with no detriment to the durability or cosmetics of the board. HPx results in numerous performance benefits... which are of particular importance for touring boards - including, effortless gliding, great stability and easy transportation.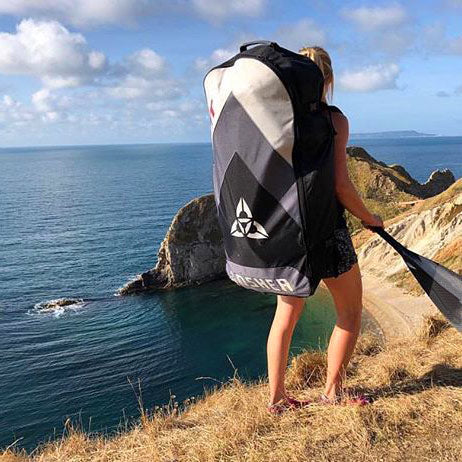 EASY TO TRANSPORT
Weighing in at an incredible 9.5KG, the GT HPx, is a doddle to carry to and from the water, with 3 perfectly positions carrying handles. The board also rolls easily after use, fitting comfortably into our PRO BACKPACK, so carrying the package off the water is easy, as the combined contents weigh in at only just over 12.5KG.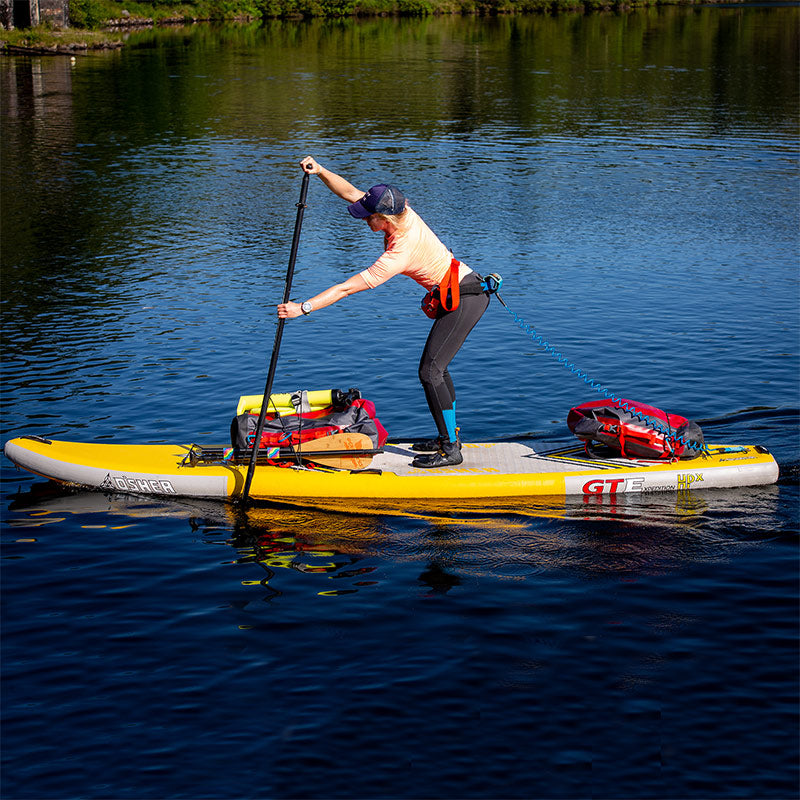 VISIBILTY & DURABILITY
Despite the light weight of the HPx construction, the durability of the board is maintained, along with its resistance to UV. The hi gloss finish of the GTB HPx not only looks pretty cool, but also serves an important safety purpose, with a highly visible board on the water. It looks great on the beach too! The cosmetic finish on the board is glossy and immaculate.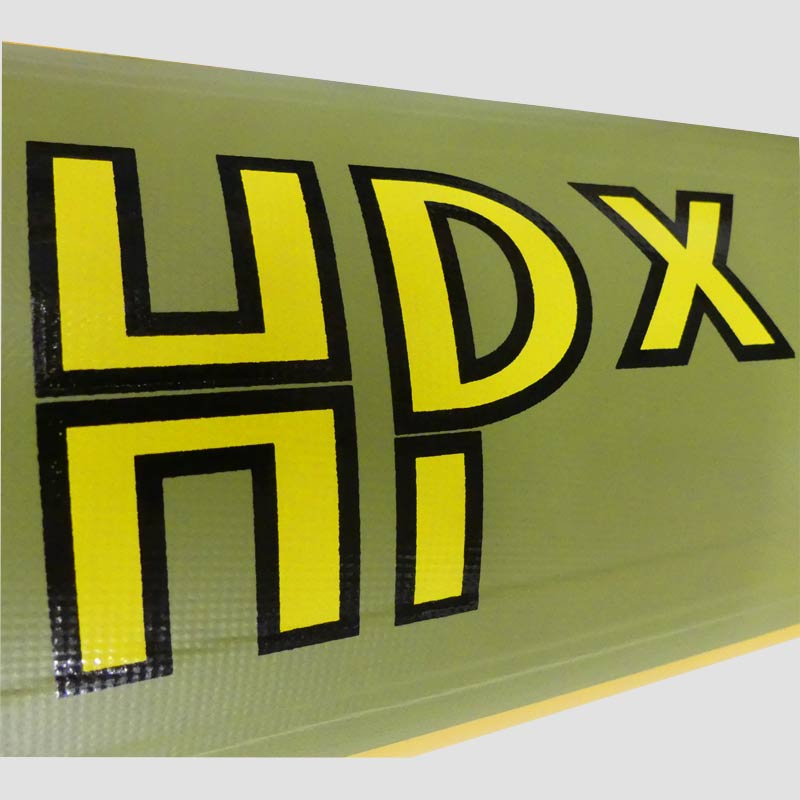 HI-TECH SEAMS & 5 YR WARRANTY
All 2023 HPx boards now incorporate state-of-the-art heat-welded seam technology. This provides a stronger seam and an enhanced cosmetic finish.
5 YEAR WARRANTY
2023 HPx models are supplied with 1 years manufacturers warranty extendable to 5 years by registering online.
"THIS BOARD IS A TOURING CHAMPION... A TRUE ADVENTURER'S BOARD."
"The ride is dry, steady and safe and storage provisions are plentiful and logically placed. All the necessary attachments are included for multi-day expeditions (towing, portage, anchoring) whether along wide, curving rivers or coastal runs. It exceeds the pace of a standard all-rounder. It is engineered for comfort and speed. A true adventurer's board" (Note that the article refers to this 13' board as a GTX, whereas it is the GTE!)
Share